Advanced Climate Solutions
are your local air conditioning experts. Our highly trained technicians are on call 24/7 to keep your air conditioner working at peak efficiency all year long.
Based locally in Thornlands, Brisbane South
, we are perfectly situated for a speedy arrival to any South Brisbane home or business.
If you're looking for quality air conditioning services you can rely on, look no further. We offer a range of quality services at great prices including installations, repairs, servicing and maintenance, commercial and residential air conditioning services.
Want personalised professional advice?
Call Advanced Climate Solutions Now on 07 3206 3542
Advanced Climate Solutions provide quality air conditioner installations Redlands and Brisbane wide. Whether you want a split system air conditioner or window unit to a full house ducted air conditioning system, we offer quality installations at competitive prices.
Our policy is customer service before, during and after any job to give peace of mind to everyone involved. From advice and installation to scheduled servicing and repairs, from start to finish, we've got you covered.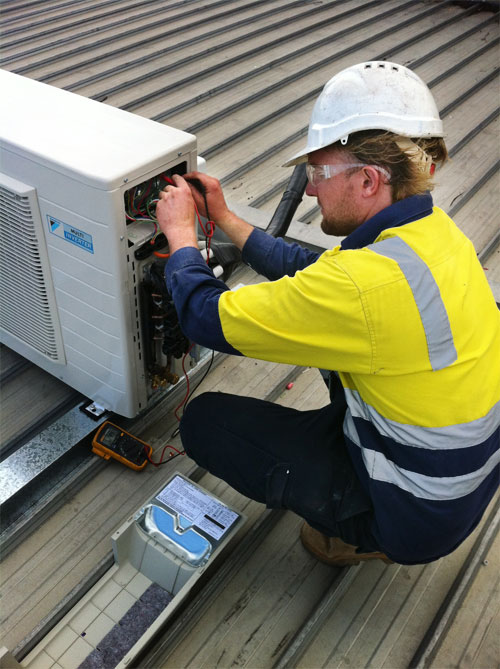 Many people will buy a new air conditioning system and then promptly forget about it. But no one wants to invest in a brand new air conditioner only to have it breakdown weeks after the warranty expires. However, that is exactly what is likely to happen if you buy a new air conditioner and neglect to have it regularly serviced.
Luckily, Advanced Climate Solutions makes regular maintenance and servicing easy. Call 07 3206 3542 today to organise scheduled maintenance for your air conditioner and keep it running smoothly all year long.
A preventative approach is always the best way to make sure your air conditioner doesn't let you down when you need it. However, if your air conditioner does break down, we've got you covered with our emergency air conditioner repairs service.
At Advanced Climate Solutions, we keep our service vehicles fully stocked with parts to fit all of the major air conditioner models on the Australian market. Our experienced technicians are on call 24/7 for emergency breakdowns to ensure that our customers are never left to wait for standard business hours before a repair can be made.
This is especially important for our commercial customers as a broken down air conditioner in the middle of summer can be the difference between customers leaving your store or comfortably browsing until they make a purchase.
Air conditioning plays a very important part in many businesses from retail stores to corporate offices. If you can't keep your store or offices at a comfortable temperature the productivity of your staff can be reduced and you'll run the risk of driving away valuable customers.
Advanced Climate Solutions provides comprehensive commercial air conditioning services including installation and servicing to emergency repairs outside of standard business hours. Call Advanced Climate Solutions on 07 3206 3542 for all of your commercial air conditioning needs to keep your staff productive and new customers rolling in.
Advanced Climate Solutions are experts when it comes to residential air conditioning. Whether you need a zoned, ducted air conditioning unit to cool your entire home or a multi split system unit for your living area, our experienced team are fully equipped to offer personalised advice and quality services for all of your home air conditioning needs.

Advanced Climate Solutions is a 100% Australian owned and operated business based in the heart of Brisbane's southside. Our long history of satisfied customers is a testament to the quality of work that we provide at every job, big or small. Looking for quality air conditioning installations, repairs, servicing and maintenance Redlands or Brisbane Southside? Choose Advanced Climate Solutions. Call 07 3206 3542 today or fill out our contact form.