Residential Air Conditioning
If you seek complete and unconditional relaxation at the end of a hard day's work, you can find it only at a home that is cheerful, happy and comfortable. While we are sure that your family can keep you cheerful and happy, we at Advanced Climate Solutions take the responsibility of keeping you comfortable by installing, servicing and maintaining powerful and power efficient residential air conditioning systems.
Advanced Climate Solutions for hassle free service and a comfortable home
We at Advanced Climate Solutions are experts in all things related to residential air conditioning. We use only energy rated systems that perform efficiently in extreme climates.  Get in touch with us if you are confused about the brand, variety or size of air conditioning units.
We not only help you choose the right residential air conditioning units, but also install and repair them, and offer service and maintenance contracts. So, you can be free of hassles related to the cooling system in your home and save money as well.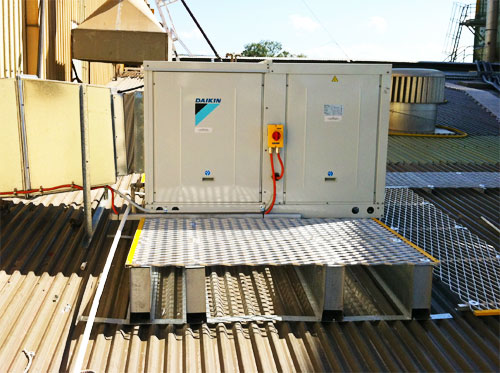 Hassle free services
Airconditioning your family home or office can be one of the most important steps you take in ensuring year round comfort in South East Queensland's sometimes extreme weather conditions. But with so many manufactures and different types of units on the market each with their own marketing schemes and gimmicks how can you be sure that what you're being offered is the right solution to your individual needs.
We guarantee that we only use the best units for home airconditioning systems, ducted or not.
Comfort for the family
At Advanced Climate Solutions our staff brings in years of industry experience relevant to the domestic air con market. With a strong interest in bringing together many factors like machine energy efficiency which ultimately saves the customer money. Individual customer service and attention to detail on finished products we believe a referral from a customer is the best form of advertising and finally pricing a job in accordance to the clients needs and budget.
So whether you are in the market for a full ducted system with individual room temperature control down to a multi head unit or a split system, contact us and we can organize a no obligation free quote tailored to your specific needs.
How we can help you?
You benefit from our experience and expertise since we help you enjoy comfortably cooled interiors while also ensuring that your energy bill does not burn a huge hole in your pocket.
You don't have to bother about maintaining your residential air conditioning since we keep track of every one of our customers and send technicians to your doorstep for timely servicing.
Anytime a glitch develops in your air conditioning system, we are just a call away.
Installing and maintaining an efficient residential air conditioning system does not get easier. Get in touch with us and get the most satisfactory services at reasonable prices.
Contact us for a free quote or call us on 0403 254 272