Actron Air Split System Air Conditioner Brisbane

Serene Split System Air Conditioner
Actron Air is an Australian air conditioning manufacturer that designs and manufactures their systems in Australia for our climate. The advantage Actron Air has over their competitors is the air conditioning engineers are based in Australia and experience the climate first hand. This has allowed Actron Air to design the split system air conditioning system Serene that has the greatest temperature operating range of any system on the market (between -25c to 60c).
The Serene system features a sleek design and is suitable for single rooms, living areas and apartments. This split system air conditioner also isn't heavy on your electricity bill with the 2.65kW model having reached the highly sought after 7-star energy rating making it one of Actron Airs most energy-efficient air conditioners yet. When you combine this with their market-leading operating range of up to 60c and better capacity than comparable systems you can rest assured that your Serene system can keep the pace in the midst of our Brisbane summers without burning a huge hole in your back pocket. This combo of operating temperature and energy efficiency allows you to have more cooling power when you need it most.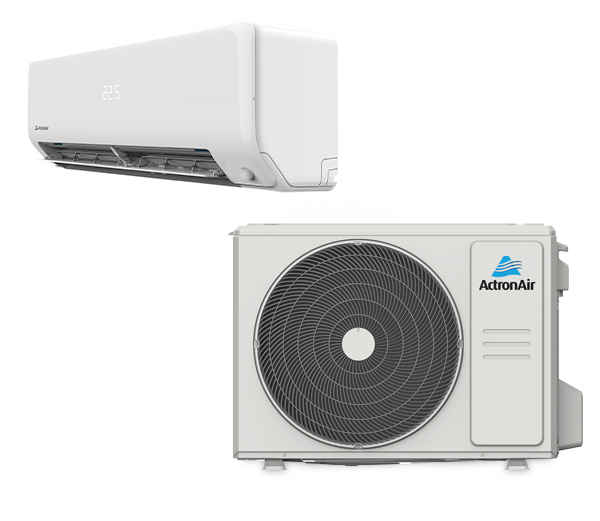 So how does the serene achieve its energy efficiency?
For improved energy efficiency and less impact on the environment and lower global warming potential, Actron Air chooses R32 refrigerant for their Serene split system units. The Serene split system also uses DC Direct Current Inverter Technology with some competitors using AC technology or a combination of AC and DC. The choice for DC can make a substantial difference to your electricity bill with their DC inverter compressor up to 35% more efficient and the outdoor fan being up to 40% more efficient than AC technology. The Serene system uses DC inverter technology in its inverter compressor, indoor fan and outdoor fan so that their customers benefit from improved efficiency resulting in lower electricity bills and optimal cooling at high and low ambient temperatures.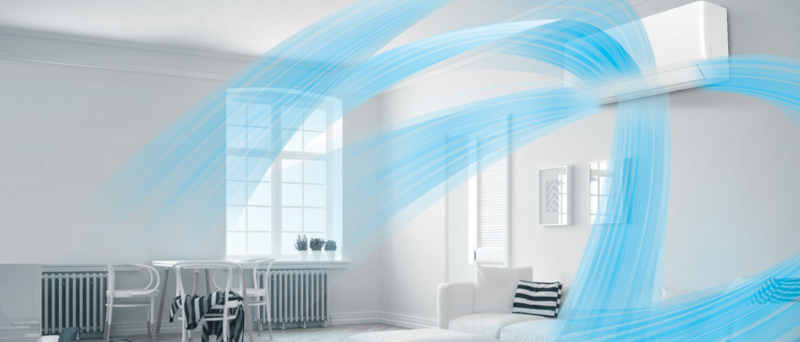 AC vs DC
Serence uses Direct Current Inverter technology in its inverter, compressor, indoor fan and outdoor fan. DC technology can make a big difference to your electricity bill as compared with AC technology being up to 35%-40% more efficient.
Better Technology
3d airflow provides total comfort coverage, ensuring that airflow is distributed evenly throughout the room for more complete comfort.
Proximity Sensor
When activated, the intuitive proximity sensor enables Serene to detect human movement, allowing it to run at reduced capacity when there's been nobody in the room for 30 minutes. It's smart enough to automatically revert back whenever someone re-enters the room.
Sprint Activation For Quick Comfort
When sprint activation is turned on the compressor achieves its maximum frequency quickly, reaching 65hz within 6 seconds from start up. Allowing Serene to deliver conditioned air within 40 seconds so you can get comfy fast.
Better Control
Serene comes with an all-new controller that features a large screen and buttons. For those who want a little more control or those who just keep losing the remote serene has an optional wall-mounted wired controller
Available on Apple and Android OS the optional easy connect app allows you to control your Serene system via your smart device. You can cool your home down as you leave work or check you have turned off the air conditioning
Health
Tired of the musty smell that comes when your air conditioner ages? The Serene system comes with a built-in self-clean mode with a 4 stage cycle. This helps to improve the quality of your air by removing dust and mould growth. Having a clean air conditioning system also improves the performance and efficiency of your system.
High-Density filter
The Serence comes with a high-density filter as standard, this filter has shown to remove up to 80% of dust and pollen which is great news for those with allergies.
The Gold Standard in Protection
Serene's indoor and outdoor coils come with gold fin epoxy coated protection as standard, which is shown to prevent bacteria from breeding. It also assists in protecting your system from corrosion and also assists in the defrosting process.
Warranty
The Serene wall hung split system is covered by a single 5 year warranty.*
*refer to full warranty terms and conditions.
Actron Air Installation and Repair Brisbane
Advanced Climate Solutions are a recognised leading Actron Air dealer in Brisbane and have won many awards over the years. We supply, install and repair the complete range of Actron Air systems making us the one-stop shop for everything you need for your air conditioning system. Contact us today on 0403 254 272.
Advanced Climate Solutions
Advanced Climate Solutions has been locally owned and operated here in Brisbane for over 17 years and is trusted by residential, commercial and builders all over Brisbane. Based in Brisbane Bayside, Advanced Climate Solutions offer repair services for the leading air conditioning brands and are an award-winning Actron Air and Daikin dealer. For a free quote call Andrew today on 0403 254 272
Products are subject to change by the manufacturer