Mitsubishi Power Inverter Ducted Air Conditioner (16kW – 19kW)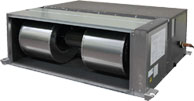 Mitsubishi Power Inverter Ducted Air Conditioner (16kW – 19kW)
Model Name: PEA-RP170/200WJA
Type: Reverse Cycle (Heating & Cooling)
Sizes: 16.0kW, 18.9kW
The Mitsubishi Power Inverter ducted air conditioner is the premium choice for rapid, energy efficient temperature control for any home or office. This unit uses inverter technology to reduce energy usage and save you money while maintaining a comfortable temperature throughout your home.
Designed for installation in the ceiling, this unit is completely unobtrusive, with only the air grilles visible from within the room. Additional. The flexible ducts of the power inverter model ensures that the system operates in a way that best suits virtually any room layouts. For year round comfort with energy efficient heating and cooling, the Mitsubishi Power Inverter ducted air conditioner is the solution.
Key Features
Ultra Compact
Auto Fan Speed
Night Set Mode
Quiet Operation
Flexible Return Air
Standby Power Function
Indoor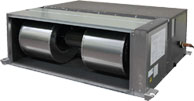 Outdoor

For All Your Air Conditioning Sales & Service Needs
Controller Features
Wi-Fi control for wireless temperature control from your smartphone, tablet, or laptop
Full colour touch controller with customisable 3.5 inch colour LCD touch panel
Deluxe controller incorporating a large backlit screen and simple menus for easy operation
If you think the Mitsubishi Power Inverter ducted air conditioner is right for you, call Advanced Climate Solutions today on 0403 254 272 for quality Mitsubishi air conditioner installations Redlands and Brisbane Southside wide.
Note: All products listed on our website are subject to availability. Product details provided are subject to change without notice. For more information call 0403 254 272 or fill out our contact form.
Technical Specs
Available Options
System: Inverter (heating & cooling)
Capacities: 16.0kW, 18.9kW
Indoor Type: Ceiling Concealed
Power Supply:
240v / single phase / 50Hz
415v / three phase / 50Hz
If you need a reliable air conditioner to keep your home cool and comfortable all summer long, a Mitsubishi ducted air conditioner could be the solution. Advanced Climate Solutions supplies and installs a huge range of air conditioners Brisbane wide. Call us today on 0403 254 272 for quality air conditioning services at a competitive price!