Mitsubishi Power Inverter Ducted Air Conditioner – 22kW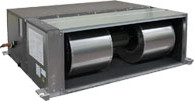 Ceiling Concealed Ducted Air Conditioner  (7.1kW – 12kW)
Model Name: PEA-RP250WHA
Type: Reverse Cycle (Heating & Cooling)
Sizes: 22.0kW
The Mitsubishi power inverter ducted air conditioner is designed to create the perfect living environment with both heating and cooling for year round comfort. With energy saving technology, the power inverter ducted air conditioner is the ideal way to maintain the desired temperature in your home without running up a huge electricity bill.
Additionally, this model is built with a flexible duct design allowing a variation in airflow to suit any floor plan or layout. The distance between both the air-intake and air-outlet vents can also be adjusted to create the optimal airflow configuration for maximum comfort.
Key Features
Flexible duct design for optimal airflow to suit any layout
Easy installation with the option to adjust the distance between the intake and outlet vents for optimal airflow
Designed for installation in ceiling spaces for hidden heating and cooling

Dehumidifying mode with electronically controlled fan speed to increase range and efficiency of dehumidification
For All Your Air Conditioning Sales & Service Needs
Controller Features
Full colour touch controller with customisable 3.5 inch colour LCD touch panel

Deluxe controller incorporating a large backlit screen and simple menus for easy operation
If you think the Mitsubishi power inverter 22kW ducted air conditioner is right for you, call Advanced Climate Solutions today on 0403 254 272 for quality Mitsubishi air conditioner installations Redlands and Brisbane Southside wide.
Note: All products listed on our website are subject to availability. Product details provided are subject to change without notice. For more information call 0403 254 272 or fill out our contact form.
Technical Specs
Available Options
System: Inverter (heating & cooling)
Capacities: 22.0kW
Indoor Type: Ceiling Concealed
Power Supply: 400v / three phase / 50Hz
If you need a reliable air conditioner to keep your home cool and comfortable all summer long, a Mitsubishi split system air conditioner could be the solution. Advanced Climate Solutions supplies and installs a huge range of air conditioners Brisbane wide. Call us today on 0403 254 272 for quality air conditioning services at a competitive price!