Mitsubishi MSZ-EF Series – Split System Air Conditioner

MSZ-EF Series – Split System AC
Type: Reverse Cycle (heating & cooling)
Sizes: 2.5KW, 3.5KW, 4.2kW, 5.0KW
The Mitsubishi MSZ-EF split system air conditioner series is known for its energy efficiency and streamlined design. Available in white, black, or silver, this unit will suit any home decor style. This air conditioner has an inbuilt nano platinum filter that generates antibacterial and deodorising effects for better air quality. 

Additionally, the MSZ-EF has a quiet mode feature for almost undetectable operation, as well as a weekly timer allowing complete temperature control around the clock.
Key Features
Energy Saving Inverter Technology
Silent Mode For Whisper Quiet Operation
Dual Barrier Coating For Superior Dust Protection
Nano Platinum Deodorising Filter
Award Winning Design
Note: All products listed on our website are subject to availability. Product details provided are subject to change without notice. For more information call 0403 254 272 or fill out our contact form.
Indoor

Outdoor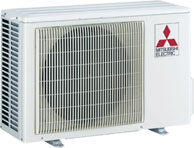 For All Your Air Conditioning Sales & Service Needs
Controller Features
On/Off Timer
Wi-Fi Control
Weekly Timer
Technical Specs
Available Options
System: Reverse Cycle
Capacities: 2.5KW, 3.5KW, 4.2kW, 5.0KW
Indoor Type: Wall Mounted
Power Supply: 1 Phase, 230v, 50Hz
 
If you need a reliable air conditioner to keep your home cool and comfortable all summer long, a Mitsubishi split system air conditioner could be the solution. Advanced Climate Solutions supplies and installs a huge range of air conditioners Brisbane wide. Call us today on 0403 254 272 for quality air conditioning services at a competitive price!