Mitsubishi MSZ-FH Series – Split System Air Conditioner

MSY-FH Series – Split System AC
Type: Reverse Cycle (Heating & Cooling)
Sizes: 2.5KW, 3.5KW, 4.2kW
The Mitsubishi MSZ-FH Split System Series is designed with a natural air distribution feature based on an analysis of natural wind. This allows room temperature to be controlled in a natural way that feels more comfortable. This series is also built with a 3D i-See sensor that can identify hot or cold spots in the room and direct temperature controlled air to that area for a more even temperature throughout the room.This model is extremely energy efficient with a 5.5 /6 energy star rating for the 2.5kW unit. Additionally, a built in plasma filter system is used to remove dust and other allergens from the air for improved air quality.
Key Features
Designed For Easy Cleaning
Energy Saving Inverter Technology
Whisper Quiet Mode
Dual Barrier Coating For Superior Dust Protection
Award Winning, Sleek Design
Adjustable Airflow Direction For Improved Airflow Control
Long Airflow For Even Air Distribution Throughout The Room
Wide Airflow To Prevent Hot/Cold Spots
Indoor
Outdoor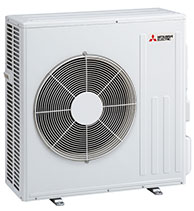 For All Your Air Conditioning Sales & Service Needs
Controller Features
On/Off Timer
Wi-Fi Control
i-save Mode
Technical Specs
Available Options
System: Reverse Cycle
Capacities: 2.5KW, 3.5KW, 4.2kW
Indoor Type: Wall Mounted
Power Supply: 1 Phase, 230v, 50Hz
Refrigerant:

R32

 
 
If you need a reliable air conditioner to keep your home cool and comfortable all summer long, a Mitsubishi split system air conditioner could be the solution. Advanced Climate Solutions supplies and installs a huge range of air conditioners Brisbane wide. Call us today on 0403 254 272 for quality air conditioning services at a competitive price!