Advanced Climate Solutions
are your local air conditioning experts. We offer a wide range of air conditioning services including
installations
,
maintenance
, and
emergency repairs
. Our team of highly trained and qualified air conditioning technicians are experienced with a range of different types and models of air conditioners.
Located on Brisbane's Southside, Advanced Climate Solutions offer reliable air conditioning service Redlands, Brisbane, and Logan wide. Our emergency air conditioning repair services are available for both residential and commercial air conditioners as well as office ACs. Whether you need a new office ducted air conditioner installed or a minor repair on your home AC unit, ACS has the solution.
Want personalised professional advice?
Call Advanced Climate Solutions Now on 07 3206 3542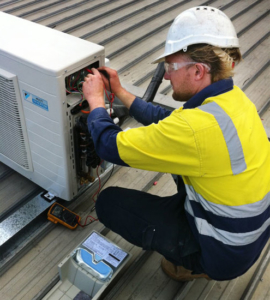 Commercial Air Conditioning Repairs
As a business owner, we know how important it is to ensure that your customers and employees are happy and comfortable, and in Brisbane's hot climate, that generally means that you need a working air conditioner.
However, many air conditioner companies only work within the 9 to 5, Monday to Friday work week. This means that if your air conditioner breaks down on the weekend you're left with no option but to wait until Monday morning which could cause you to lose precious customers.
Luckily, Advanced Climate Solutions offers 24/7 emergency air conditioning response services to ensure that your commercial air conditioner runs smoothly all year round. For more information or to set up a servicing contract to reduce the chance of an unexpected breakdown give us a call on 07 3206 3542.
Residential Air Conditioning Repairs
In Brisbane, summer means getting your friends and family together for a BBQ and then retiring to the cool air conditioned living area to take a break from the harsh Aussie sun. However, did you know that your air conditioner is most likely to break down in the middle of summer? So what do you do when your air conditioner breaks down outside of business hours on a summer night or weekend?
Advanced Climate Solutions won't let a broken down air conditioner ruin your next family get together. That's why we offer 24/7 emergency air conditioner breakdown response services. We strive to provide quality air conditioning services at a great price for guaranteed customer satisfaction.
Your Local Air Conditioning Experts
If your commercial or residential air conditioner breaks down unexpectedly, make Advanced Climate Solutions your first call. Our fully licensed and insured technicians are on call 24/7 with fully stocked service vehicles. We'll get your air conditioner back up and running in no time. We also offer a range of other quality air conditioning services including installations, servicing, repairs, and maintenance.

Call your local air conditioning experts at ACS for all of your air conditioning needs on 07 3206 3542.