There are many different types of air conditioners, each designed with a specific purpose in mind. Choosing the right air conditioner for your needs will not only ensure that your apartment remains a comfortable temperature all year round, it can also save you money on both installation and running costs. However, before you choose which air conditioner is right for your apartment there are two main factors that you will need to consider: the body corporate policy and the size of the apartment.
Want personalised professional advice?
Call Advanced Climate Solutions Now on 07 3206 3542
Check The Body Corporate Policy
Before you can install a new air conditioner in your apartment, it's important to check the building's rules and guidelines in regards to air conditioning. Some body corporates will have restrictions in regards to having objects installed on the balcony or outer wall of the apartment building.
In addition, there may be noise level requirements to consider when deciding on the right air conditioner. Even if the building's guidelines allow your chosen air conditioner, it's always best to get written permission before purchasing and installing your AC to avoid problems down the line.
Size Of Apartment
The other key consideration when choosing you air conditioner is the size of your apartment. For example, a small studio has vastly different cooling requirements when compared with even a one bedroom apartment, let alone a larger space.
For cooling a single room, such as in a small studio apartment, a window unit or portable air conditioner may be sufficient. Though the cooling power these air conditioners provide is significantly less than the other available options, they typically cost less and are less likely to cause issues with your body corporate.
To cool multiple rooms or an apartment with a larger floor space, common AC options include split system, multi split system, and low profile ducted air conditioning units. Though these air conditioners will set you back a little more than a small portable air conditioner, they are much more energy efficient and will successfully cool your apartment all summer long.
The Best Air Conditioners For Apartments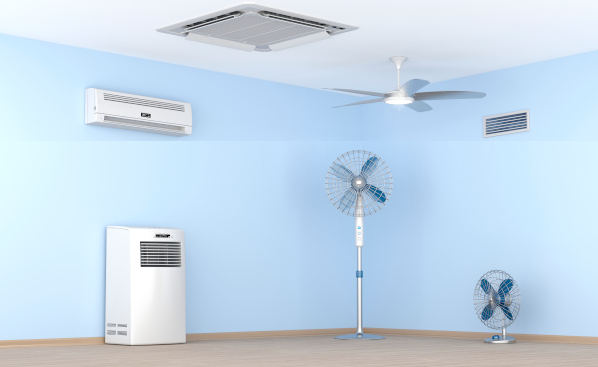 Split system air conditioners are commonly used in apartment buildings as they provide the perfect combination of energy efficiency and cooling power. Split system air conditioners are typically designed to cool a single room or area, making them ideal for use in apartments. Split system air conditioners come in a range of different sizes making them suitable for cooling small rooms to large living areas.
Additionally, split system air conditioners are highly efficient, saving you money on energy costs throughout the units lifetime. One consideration when installing a split system air conditioner is that it requires an outdoor unit. As the outdoor unit is typically located on the other side of the wall that the indoor unit is mounted to, your indoor air conditioner will need to be installed on an exterior wall.
When installing split system air conditioners in apartment buildings, the outdoor unit typically sits on the balcony or is mounted to the exterior wall. This means that you will likely require approval from your body corporate. You will also need to take into consideration how close your neighbours are and whether or not the noise from the outdoor unit will be an issue.
Multi Head Split System Air Conditioner
A multi head split system unit is a split system air conditioner made up of two indoor units and one outdoor unit. This allows you to cool multiple rooms without having to install multiple split system air conditioners including multiple outdoor units.
Multi split system air conditioners are a great option for apartments with 2 or three rooms that need to be cooled. An added benefit of a multi head split system is that each indoor unit can be operated individually rather than having to cool the entire apartment all the time, saving you money.
As with a split system air conditioner, a multi split system unit will also require approval from the body corporate for the installation of the outdoor unit and any building noise restrictions should be taken into account.
Another great option for apartment air conditioning is a low profile ducted system. As the name suggests, a low profile ducted air conditioner is ideal for use where ceiling space is limited, such as in an apartment building.
One benefit of choosing a ducted air conditioner is that you will only need one unit, regardless of how many rooms need cooling. This is because a ducted air conditioners use ducts, typically installed in the ceiling, to circulate the cold air throughout the entire apartment. Additionally, ducted air conditioner are installed in the roof, rather than in the room with only air vents visible.
Although ducted air conditioners can be more pricey when it comes to purchasing the unit, the energy efficiency and longer lifespan will save you money in the long run.
Window Unit/Portable Air Conditioner
Finally, window units and portable air conditioners are another option for apartment air conditioning. Though not nearly as powerful or energy efficient as the above listed options, these temporary air conditioners have their own benefits.
For example, a window or portable air conditioning unit will generally cost less than other types of air conditioning. Plus, you probably won't have to seek the approval of the body corporate as you are not making changes to the building.
Quality Air Conditioning Solutions Brisbane

Whether you need a split system, multi split system, ducted, or window unit air conditioner, Advanced Climate Solutions has the solution. We supply and install a wide range of air conditioners Brisbane wide from well known manufacturers such as Mitsubishi, Daikin, and Actron.
Our air conditioning technicians are fully qualified, licensed, and insured to provide reliable air conditioner installations for both residential and commercial applications. Call us today on 07 3206 3542 for a free quote.